Jérémie Rhorer, conductor
Jérémie Rhorer is one of the most exciting and versatile conductors of his generation. He continues in the tradition of artist-innovator as the founder and Music Director of Le Cercle de l'Harmonie, leading the exploration of the repertoire of the 18th and 19th centuries using period instruments and original tuning. As a conductor, Rhorer is an equally acclaimed interpreter of the works of Mozart as well as modern works. A winner of the Prix Pierre Cardin, Jérémie Rhorer is also a well-respected composer. 
Jérémie Rhorer has conducted some of the most distinguished international orchestras, including the Montréal Symphony Orchestra, the Philharmonia Orchestra, the Gewandhaus Orchestra, the Rotterdam Philharmonic, the Orchestre de Paris and the Czech Philharmonic. In-demand as an opera conductor, Rhorer has led productions at the Vienna State Opera, the Bavarian State Opera, La Monnaie in Brussells, the Opéra National de Lyon, the Teatro Real in Madrid and the Teatro dell'Opera di Roma. Rhorer has also guest conducted at some of Europe's most prestigious international festivals, such as Aix-en-Provence, Glyndebourne, Edinburgh, the BBC Proms, the Salzburg Festival, and the Spoleto Festival, where he conducted the closing concert in July 2018 with Jeanne d'Arc au bûcher by Honnegger featuring Academy Award winner Marion Cotillard in the title role. With Le Cercle de l'Harmonie, he has led pioneering new interpretations of standard operatic works, most recently conducting performances of Rossini's Il barbiere di Siviglia (at the Théâtre des Champs Elysées in Paris, at the Edinburgh International Festival and at the Musikfest Bremen in 2017/18, now available on DVD) and Verdi's La traviata (at the Théâtre des Champs Elysées in Paris and at the Musikfest Bremen in 2018/19), using period instruments and restoring the original tuning.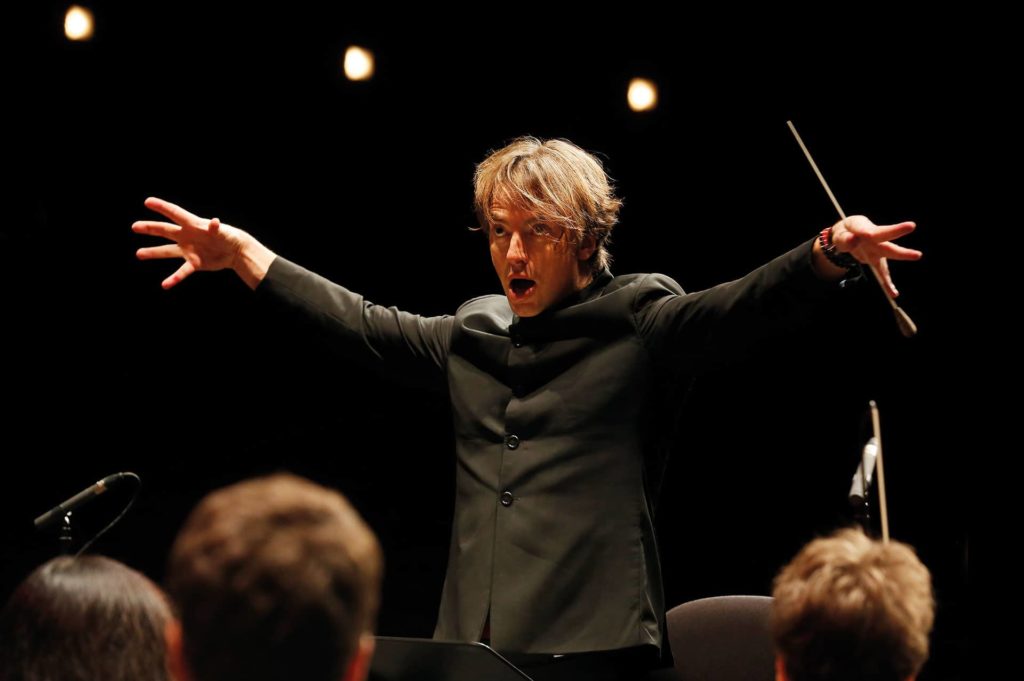 For over 10 years Rhorer has developed a close relationship with the Théâtre des Champs-Elysées, where he has conducted a wide range of standard, rarely-performed and contemporary operas. Following his debut with Spontini's La vestale, Rhorer gave a celebrated interpretation of Poulenc's Dialogues des Carmélites directed by Olivier Ply, (which received a BBC Music Magazine Award 2016 for its DVD recording) and an iconic Mozart series, conducting Le Cercle de l'Harmonie in La clemenza di Tito (December 2014), Die Entführung aus dem Serail (September 2015), Don Giovanni (December 2016) and Le nozze di Figaro (December 2019). In March 2019, Rhorer also conducted Strauss's Ariadne auf Naxos directed by Katie Mitchell. 
Jérémie Rhorer and Le Cercle de l'Harmonie have initiated an innovative residency at Le Grand Théâtre de Provence in Aix-en-Provence, which includes an educational programs dedicated to new audiences. Together, they will also perform for the first time at the Festival of Sacred Music in Oslo with the monumental Missa solemnis by Beethoven that they will present also in Paris at the Théâtre des Champs Elysées. 
Highlights of Rhorer's 2019/20 season includes appearances with the Orchesta della Svizzera Italiana al Le Lac, the first appearance at the Al Bustan Festival with the Camerata Salzburg, the continuation of the successful Tchaikovsky's Cycle of the Symphonies with the Deutsche Kammerphilharmonie Bremen, the return to the Montreal Symphony Orchestra and the debut at the Musikverein in Vienna with the Vienna Radio Symphony Orchestra.
© Caroline Doutre
FR
VÉRITÉ, FORCE ET BEAUTÉ, C'EST CE QUE RECHERCHE JÉRÉMIE RHORER DANS SA VIE DE MUSICIEN
Après un cursus à la Maîtrise de Radio France qui lui a révélé sa vocation pour la direction d'orchestre, Jérémie Rhorer se forme au Conservatoire de Paris en clavecin, flûte, théorie et composition. Ses professeurs et mentors ont été Thierry Escaich, Emil Tchakarov, William Christie et Marc Minkowski.
Depuis 2005, il est le directeur artistique du Cercle de l'Harmonie, orchestre sur instruments d'époque spécialisé dans le répertoire des XVIIIe et XIXe siècles. L'ensemble se consacre à la musique des XVIIIe et XIXe siècles, mettant en lumière les liens de filiation naturelle entre les périodes classique et romantique, en retrouvant l'interprétation et le son originaux des œuvres. Jérémie Rhorer et Le Cercle de l'Harmonie ont enregistré plusieurs disques pour Virgin Classics, Alpha Classic et Naïve. L'orchestre a fait ses débuts au Royaume-Uni en 2011 au Barbican Center et aux Proms en juillet 2016. Parmi leurs dernières représentations, on peut citer Il Barbiere di Siviglia de Rossini sur instruments d'époque au Festival international d'Edimbourg et au Musikfest Bremen à l'été 2018, et La Traviata de Verdi interprétée au diapason 432 HZ au Théâtre des Champs-Elysées et mis en scène par Deborah Werner en décembre 2018. En décembre 2019, Jérémie Rhorer et le Cercle de l'Harmonie sont au Théâtre de Champs Elysées dans Les Noces de Figaro, opéra mis en scène par James Gray.
Qu'il s'agisse des auteurs classiques comme ceux du romantisme allemand, ou encore du répertoire contemporain, dont les créations de Thierry Escaich, tous les répertoires occupent sa direction d'orchestre qui se nourrit aussi de sa formation de compositeur.
En tant que chef invité, Jérémie Rhorer se produit avec les grands orchestres européens et américains, comme l'Orchestre symphonique de Montréal, la Deutsche Kammerphilharmonie, le Philharmonia Orchestra, le Gewandhausorchester, le Philharmonique de Rotterdam, l'Orchestre de Paris ou encore l'orchestre philharmonique tchèque, dans plusieurs institutions parmi lesquels l'Opéra d'État de Vienne, le Bayerische Staatsoper, La Monnaie, le Teatro Real à Madrid et le Teatro comunale (Bologne). Il a été invité à diriger dans des festivals internationaux tels qu'Aix-en-Provence, Glyndebourne, Édimbourg, les BBC Proms, le Festival de Salzbourg et le Festival de Spoleto.
Jérémie Rhorer a fait ses débuts aux États-Unis en 2008 avec le Philadelphia Chamber Orchestra.
Il obtient en 2014 le Grand Prix du Syndicat de la Critique et le BBC Music Magazine Award 2016 pour la production du Dialogue des Carmélites de Francis Poulenc donnée au Théâtre des Champs-Élysées.
En 2019, il est nominé pour la meilleure production de l'année aux l'International Opera Awards pour La Traviata qu'il donne au Théâtre des Champs-Élysées.
Disciple de Thierry Escaich, compositeur contemporain majeur, lauréat du Prix Pierre Cardin, Jérémie Rhorer poursuit un travail exigeant de composition parallèlement à la direction d'orchestre. Il a composé Le cimetière des enfants (versions pour piano et orchestre), un Concerto pour violoncelle pour Jérôme Pernoo (2014), et, sur commande du Philharmonia Orchestra, un Concerto pour piano destiné à Jean-Yves Thibaudet (2017).